2012-2015 News Items
27 March 2013: OI's Jan Svejkovsky Wins Multiple Awards for Scientific Paper
Ocean Imaging's President – Dr. Jan Svejkovsky – is the primary author on a peer-reviewed paper published in the October, 2012 issue of the journal Photogrammetric Engineering & Remote Sensing (PE&RS):  "Operational Utilization of Aerial Multispectral Remote Sensing during Oil Spill Response: Lessons Learned During the Deepwater Horizon (MC-252) Spill," PE&RS, 78(10): 1089-1102" The paper details OI's aerial oil spill mapping system and its multiple uses during the massive 2010 Deepwater Horizon oil spill. Early in 2013, the American Society for Photogrammetry and Remote Sensing (ASPRS) chose Svejkovsky et al.'s paper to receive two annual awards for its content and quality: the Boeing Award for Best Paper of the Year, and the John I. Davidson President's Award (3rd place) for Best Practical Paper. Both awards include a cash prize and were presented on 26th March, 2013 at ASPRS' Annual Conference in Baltimore, Maryland. While Svejkovsky was not able to attend the ceremony, the awards were received on his behalf by Joseph Mullin – one of his co-authors and an ardent supporter of the OI oil mapping system's development during his pre-retirement tenure at the US Minerals Management Service.
12 Nov 2012 - OI Teams with BP to Develop Next Generation Aerial Oil Spill Mapping System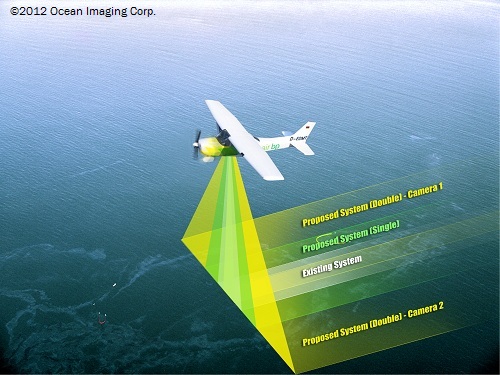 Ocean Imaging has teamed up with BP to develop an advanced, yet simple-to-use aerial imaging system specifically configured to provide digital maps of oil spill extents and oil thickness distributions. Drawing on OI's extensive past research and operational support experience, especially during the Deepwater Horizon spill in 2010, OI's researchers will assemble and test a highly portable multispectral hardware/software system that will enable image capture, oil characteristics classification, and electronic dissemination of the resulting map in near-real-time directly from the aircraft. Primary emphasis is on expanding the spatial coverage capabilities of the system, so that smaller spills can be quickly mapped in only one or two overflight passes and very large spills can be completely or near-completely covered in a single flight mission. Initial testing is planned for spring/summer 2013. The system will be small enough to enable its future use both in manned aircraft and Unmanned Aerial Vehicles (UAVs).