Services and Capabilities
Since 1983 Ocean Imaging's worldwide fish finding services have provided customers with ready-to-use analysis products, saving them fuel, time and money while helping better manage their operation. We utilize only the most sophisticated and high-resolution satellite and model-derived data processed minutes after acquisition. Our powerful SeaView© software then lets you combine the very latest oceanographic data such as SST, plankton levels, ocean currents, salinity, mixed layer depth, sea surface height, and weather information with your fishing expertise to make better decisions while at sea. We also offer high-quality data composite and cloud-free imagery to virtually eliminate the problem of cloud cover.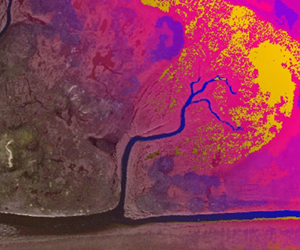 Ocean Imaging has a long history of mapping marshes and wetlands, in many cases down to individual plant species with 10-20cm resolution aerial imagery. We have particular expertise in providing initial data delineating native and non-native species for restoration planning, and monitoring the various restoration phases and long-term progress. We have mapped intertidal and subtidal bottom substrate with aerial and satellite imagery in various waters ranging from the Virgin Islands to Northern California. We have also mapped kelp and eel grass from Mexico up to Alaska. In addition, we specialize in habitat analyses used to assess damage to wetland areas following such events as oil spills and hurricanes.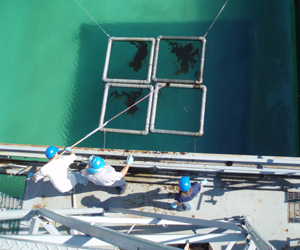 Since 2004, Ocean Imaging has worked under federal and State of California funding to develop hardware and software capabilities for mapping oil spills in real-time and immediately disseminating the map products to the various response groups. The GIS-compatible digital maps show oil location and distributions patterns, oil film thickness, and oil weathering state. In the past few years the developed capabilities have been utilized during actual oil spills in California, and during the 2010 Deepwater Horizon spill in the Gulf of Mexico, where Ocean Imaging flew multiple daily missions for 3 months. Following that incident, Ocean Imaging received research funding from BP, NOAA and the US Bureau of Safety and Environmental Enforcement to develop a second-generation aerial oil spill mapping system, drawing on lessons-learned during the Deepwater Horizon response. The new system utilizes multispectral visible and thermal imaging and can provide imagery for both real-time response support and fully processed oil thickness maps for Common Operating Picture (COP) utilization. As part of a collaborative agreement, three of the multiple systems are presently housed at Marine Spill Response Corp.'s facilities around the US, ready for immediate mobilization. Ocean Imaging continues to conduct oil spill-related R&D in partnerships with federal, state and corporate organizations.
Ocean Imaging provides a wide range of geospatial analysis services ranging from remotely sensed change detection due to a single or continuous event, to complete environmental impact assessments that include remote sensing and field data acquisition. We use our wide-ranging expertise in remote sensing technologies to create a customized, cost-effective analysis solution for each client. Some of our unique past projects include the detection of underground water seepage using thermal imaging at night, detection of plant stress in a salt marsh due to aerosolized chemical deposition, and the establishment of baseline natural resource data bases related to the creation of coastal Marine Protected Areas (MPAs) as well as time series kelp bed changed detection analyses studying change in kelp biomass for as long as fifteen years.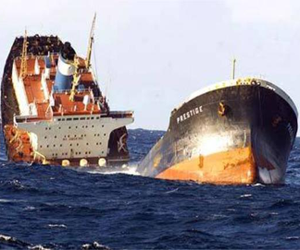 We are involved in the long-term monitoring of several wetland restoration efforts. Our initial work involved the delineation of native and invasive species and percent bare soil coverage. The data were used to plan the restoration activities. Subsequently, we regularly monitor the progress of revegetating newly planted areas, the formation and change in tidal channels, etc. We conduct surveys of resources such as kelp and eel grass for state and federal agencies as part of their regional resource management. Through initial NASA-funded research we developed remote sensing methodologies to detect and quantify wastewater effluent plumes and stormwater runoff discharges, and presently provide long term monitoring services as part of municipal water quality monitoring programs. Our staff has also served as expert witnesses (for both plaintiff and defendant) in cases involving oil spills, sewage discharge and water quality changes. In some cases, we used our own aerial instruments to acquire data for analysis and testimony. We have also provided expertise, data and analyses to aid Natural Resource Damage Assessment (NRDA)-related settlements.